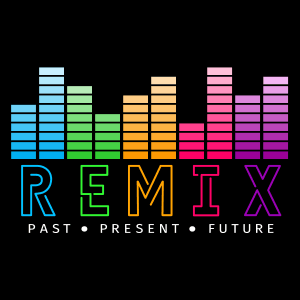 REMIX UPDATE #12
​
Dear REMIXers,
We have an exciting announcement to share with you all - the names of all our Elective Presenters for REMIX 2022!
Elective presernters will be sharing sessions on a topic or area they are passionate about and want to share with you all.
Our presenters are...
From South Australia:
Michael McConnochie
Lisa Woods
Cheryl Burgemeister
From Western Australia:
Jane Nichols
Ash Bisdee
From New South Wales:
Amber Thomas
Belinda Smith
Connor Malanos
Felicia Chadwick
From Tasmania:
Mark McCormack
Katie Salisbury
We also have a number of presenters from overseas who are 'Zooming' in to present for us all.
From the United States:
Thom Borden
Rob Amchin
Amy Burns
From Paraguay:
Vanesa Utz
Along with our Elective Presenters, we also have a number of ConFab presenters. These presenters will be running discussion groups and seminars sharing some of the amazing work they have been doing in their fields of expertise.
Stacey Swanson (USA)
Alice Csabi (Vic)
Noriko Yamanaka (NSW)
Jane Nicholas (WA)
Lastly, we have a number of Sponsored Sessions and presenters. These sessions will be where you can try first hand products, resources and programs on offer by different groups and individuals.
Our sponsored sessions are:
James Madsen from Jam On Toast and Mallet Jam
Tamara O'Brien from Bushfire Press
Cat and Josh from Kaboom Percussion
Bernadette McNamara from the National Music Mentor Teaching Program
We are excited to say we have a wide range of Elective presenters with a wide range of sessions covering all learning areas from early childhood through to high school, along with a range of topics from Indigenous perspective to beat boxing to jazz to playing spoons! Needless to say, we are confident there will be something for everyone.
Look out on our socials for our Elective Presenter Announcement and head over to our Presenters Page to find out more about each presenter. Session details for these presenters will be shared in the near future.
REGISTRATIONS ARE OPEN!
A reminder that you can now register for REMIX 2022! Early Bird registrations are open until the end of September.
While we know that many of you may not be in a position to comfortably say you will be able to attend REMIX in person, we would encourage you to book in for REMIX now, taking advantage of our Part Payment option to secure your early bird registration.
With your part payment, if you register now you will be asked to pay a deposit by the end of September to secure your Early Bird rate. You will then have until December 24 to pay the remainder of the Early Bird price.
If you are unable to get to Adelaide for REMIX due to travel restrictions, the initial deposit paid will then allow us to convert your registration into our 2 day Virtual registration. If you have paid the full amount we will refund the difference.
A full detailed list of our cancelation policy and COVID contingencies can be found on the Registration Page of our website. You can also register for the event there as well!
As always, don't forget to follow us on Social Media to stay up to date with everything REMIX!
Stay safe and we hope to see you all soon!
​